Welcome to Tangled Webs of Tangwen's Easter Hoppin' Blog Hop! In this hop, you will see different projects featuring the holiday that is hoppin' right up on us EASTER!! We hope that you enjoy our blog hop today!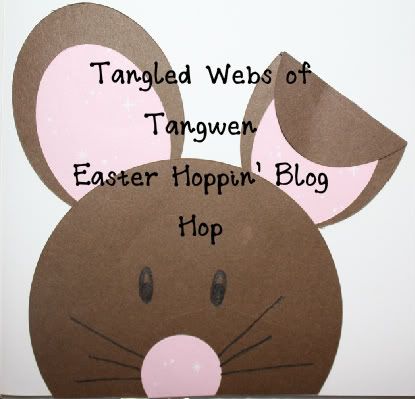 Hi Ladies! I am going to sponsor Missy's Easter blog hop this weekend. Will you please add this into your post AFTER her blog hop button. Thank you!
This hop is sponsored by
Ginger Snap Scraps
, an online store run by stay at home mom Cori Wagner.

Cori is giving away a $20 gift card to the store to one lucky winner.
You must be a follower of
Ginger Snap Scraps
, the blog and Tangled Webs of Tangwen in order to win the $20 gift card.
Ginger Snap Scraps will carry Cricut products, Echo Park, Lawn Fawn, The Twinery and many more popular brands that you love!
... I am the first stop on your Easter Hoppin' Blog hop today!
While you were out hoppin' around the sites, I found this great giveaway hidden under a shrub!
For this weekend's blog hop, Tangled Webs of Tangwen is giving away this great Easter themed paper pack!
To enter to win this pack, make sure you are a follower of Tangled Webs of Tangwen, leave a message at the Easter Hoppin' blog hop post letting me know!
I made this double page layout for todays hop using Creative Kuts file
My Little Artist
. You can click on the picture to enlarge. I hope you like my layout and are enjoying the Hop.
Leave me a comment letting me know you're a follower to be eligiable to win a $5 gift certificate to
Creative Kuts
or
CreativeKuts2
OH BUT WAIT THERE'S MORE!!! if you add my BLINKIE to your site and leave me your link I will add your name in the drawing an extra 5 times.
If you get turned around while you are doing all the hoppin' around here is the list to get you going down the right path again!
1.
Missy
- http://www.tangledwebsoftangwen.blogspot.com/
2.
Barb
- http://www.bugbites411.blogspot.com/
3.
Cori
- http://www.createdbycori.blogspot.com/
4. Lisa -
http://handmadewithlove-lisa.blogspot.com/
5.
Angie
- http://www.scrapmaniac.blogspot.com/
6.
Bonnie
- http://www.scrap-n-away.blogspot.com/ YOU ARE HERE
7.
Michelle
- http://michelescraftroom.blogspot.com/ NEXT
Thanks for stopping by. I hope you've enjoyed hopping with us this weekend. Don't forget to come back Friday for another Walt Disney Animated Movies Blog Hop featuring Beauty and the beast. Have a wonderful week :)